PHOTOS of
Johnny Too Bad & the Strikeouts!

THEY'RE FINALLY HERE!

This week many pictures will be posted -- at last! Scanner is slow...it'll take a few days to get em all up...please be patient.

Beware of the S.C.F.M., especially if you hear them coming at you as they chant, "U.-S.-A.!"


It's none other than the Scooter Club For Men!



It's the long-awaited photo of Rodger & Mat kissing (upper left corner of this collage)
Photo taken by the Punky Munky at the Really Loud Music Fest in NoHo, Spring 1997.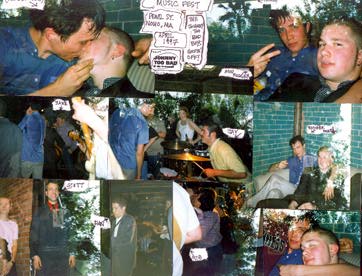 Rodger scaring the young girls, as usual.
Photo by the Punky Munky, El N Gee, New London, CT, 1997.