Johnny Too Bad and the Strikeouts, 100% pure CT MOD SKA! -- this page is part of punky munky's x-world
WELCOME TO THE OFFICIAL HOMEPAGE FOR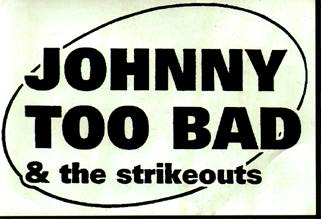 JOHNNY TOO BAD AND THE STRIKEOUTS

MOD SKA

Thank you, America!



I've been smoking too much, and drinking much, too much...cola.



As the band has moved to Beantown, so has
the Official Johnny Too Bad & the Strikeouts Homepage.
This page, the official CONNECTICUT page, will be up indefinitely.

In the mean time, visit http://acs5.bu.edu:8001/~marcan/
Nick Marcantonio is doing this NEW official homepage.


The Punky Munky (Marisa), Webmistress of this site, would like to thank all of those
who have emailed, signed the guestbook, shared Rodger horror stories, and been supportive
over the past year and a half. I know that this page was rarely updated and I never DID get
a chance to scan my zillions of great Johnny Too Bad photos (including the beautiful black-and-whites),
but I did this page out of the goodness of my heart and was never paid, so I didn't exactly have the time
to work on it on a daily basis. I did my best, and I hope you have enjoyed it and have found it informative.
For those of you on my official JTB email list, I hope the updates were useful. EVERYONE, please feel free to
drop me a line anytime. It's been interesting, to say the least....
cheers,
-Marisa/The Punky Munky




CHOOSE YOUR WEAPON:

UPCOMING SHOWS
PAST SHOWS
NEWS
HISTORY
PHOTOS
BAND BIOS
MUSIC
LINKS
CONTACT US!